Well it's that time of year again, the snow is here (unless you're lucky enough to live where snow does not…), roads are icy, and everybody is bundled up for their twice-as-long commutes each day.  Sometimes we get so caught up in just getting through this time of year that we forget to pay attention to things that can cheer us up, or add variety to an otherwise dreary day.  Take a looksie at these unique finds at a few of my favorite stores to see what they have in store for you.
1) The Club Chair by CB2 in "Pool":  The Blue is so Beautiful, You'll Forget it's Even Winter!
The Club Chair by CB2 in "Pool," is by far my favorite find this year.  For those of you who don't know, CB2 is a more modern, slightly more affordable, line of furniture and decor from Crate and Barrel.  This chair is bright, modern, but not so out there that you couldn't find somewhere for it to go.  This is one of those pieces that you could base your entire room around, or that very last, finishing touch to a great room that is still missing that little something, some umph.  It's not too girlie, not too loungey, and looks comfy enough to curl up in with a good book and a glass of wine.  The chair is that beautiful blue that has been popping up everywhere lately.  It struck me for the first time in a Sherwin Williams commercial, and then again in the Sex and the City movie.  It's quickly moving up to possibly be my FAVORITE color, you don't even understand how important a favorite color is to me.  If you are scared to use this bright of a color, try out this gorgeous shade of blue in smaller accents like vases, or candle holders, or OH!..sheer panel drapes in this shade would be perfect.  Actually, I think they have them at Pottery Barn Teen. Check out CB2's pillow selection for more easy accent ideas in this color.  If you just can't get yourself to go that blue, the chair comes in a very neutral, medium gray that would fit most decor and styles nicely.  Give it a go first in smaller doses and work your way up once you get more comfortable.  For a whopping $799, a big punch of color like this works wonders on a boring, same ole' same ole' winter day.
2) Allessi Merdolino Toilet Brush:  Make the extremely unfresh-fresh!
You are probably thinking, "Really?  A toilet brush on your top 10???"  Hell yes, there's a toilet brush on my top 10.  This awesome, yet very pricey, toilet brush is the solution to the always plaguing design problem of not having a nice way to display the useful, yet typically unattractive household items.  The toilet brush comes out of the "pot" and gets hidden away once your finished.  I found these at a local store called, "Design Quest." If you're local to Grand Rapids, MI, they are definitely worth checking out.  They're located off of 28th street, near the Target/Costco/Staples center,  just west of I-96.  They have such unique items that you can spend hours in there just learning what things do!  I have purchased custom made barstools from them, and the service is great, quality is excellent, and i have 0 complaints so far.  For those of you who know me, that's saying a lot.   Another great thing about these little guys is that they'll go with practically any decor!  They aren't flowers, so guys shouldn't feel odd displaying them, they come in all different colors, and will fit in with any theme, from a child's Finding Nemo bathroom, to a bachelor's Pop Culture bathroom.  In fact, these bright, refreshing toilet bowl cleaners, might even make it more fun to do…..that.
3)  Martha Stewart Spoon Rest: A Spoon…for your Spoons!
I'm sure these have been around for some time and I'm just now finding out about them, and all their glory, but WOW,these are awesome.  This is the Martha Stewart one from Macy's, but I've learned recently that you can find these all over the place, Target, Bed Bath and Beyond, etc.  Most kitchen hardware these days is stainless or brushed nickel, so it matches practically everything, even if your kitchen doesn't have that stuff.  Plus, it prevents a mess on your counter, or having to get another plate dirty, by giving you a nice, and actually very practical place to rest your spoon while you cook.  I'm not really know for my practical purchases, but this one definitely has a place in everybody's kitchen.
4) Crinkle Cotton Window Panel in Citron by West Elm:  No Sun?  No Problem!
I just have to say that West Elm has to be one of my absolute favorite furniture and design companies!  They make sure to stay eco-friendly as well as design modern, yet understandable, furnishings and decorations.  I look forward every month to getting my West Elm catalog.  I might actually have to buy these window panels before you all buy them out because, let me tell you, they are faaaaaaantastic!  They are sheer, while still blocking light.  They are soft, yet crinkly to give them some spunk.  They are whimsy, but the soft yellow is surprisingly bright.  They are perfect for adding a little bit of sunshine to your day, even if the weather won't cooperate (when does it?).  The best part (drum roll please..) is that they're ON SALE right now, 20% off with free shipping, so now's the time to buy.  These are in Citron, but also come in white, stone, and Meadow, which is a very pale green, almost a sage color.  They have a ton of other types of window panels and hardware to choose from, and they are all so nice.  If i had a million dollars, I'd buy them all, just to have them.  🙂
5) Color Outside the Lines : A Simple Reminder to be Creative
In order to get free shipping one day this past holiday season, I had to spend about $5 more, so I was browsing through the home decor section of their website.  I found this black and white, seemingly simple sign, that had a perfect message on it for a creative pick me up.  While the design is pretty simple, the message is not.  Sometimes, especially when we get stuck in a cold, snowy, boring, rut, our creativity seems to seep away and hide under the covers, like we like to do in the morning.  It's nice to have a reminder up on the wall to keep going and don't forget about your creativity and uniqueness because without that, every single day would be a dull, dreary day.  Creativity is what can help us to break out of that in this yucky season because, even though it's like that outside, inside we can design our world however we choose.  I just so happen to like pretending it's summer and i'm on a beach while i'm not out in the cold, so I choose bold and inspiring things to keep reminding me to be creative.
6)  Bamboo Dry Erase Board : No Description Needed..It's Just THAT Cool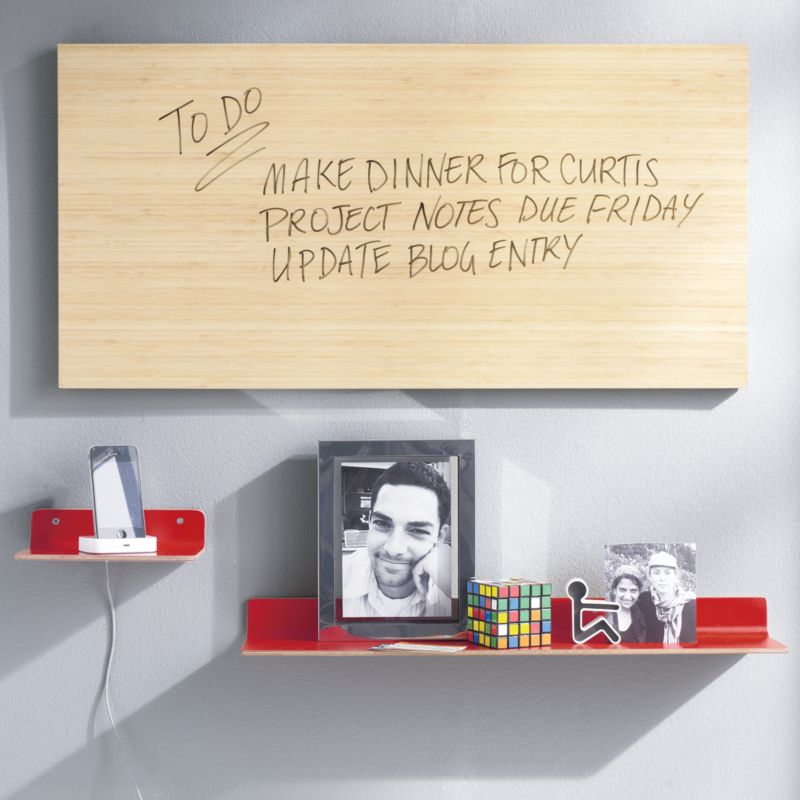 I feel like I don't even need to describe this product because it is so unique that the pic does the talking for me.  I supposed I could type a little bit though.  It's from cb2, just like the chair mentioned above, and it's a very fresh way to makeover a traditionally, very office-y, looking household item.  It's hard to make a white board or chalk board look very nice, even if you keep it super clean.  Regardless of how you approach it, it still ends up looking like a white board or chalk board.  This bamboo board is, hopefully, the start of a brand new way to remember our little notes, that actually looks like it could go in a room other than an office or kitchen.  Perhaps, this would go nicely by the front or back door to remember things before you leave, or above the nightstand in your room to jot things down on before you hit the sack each night.  The possibilities are endless, and at only $60 for  a 31.5″Wx.75″Dx15.75″H bamboo dry erase board, the only issue I'd have is how much it would take to ship it!
7) Set of 12 Dinner Napkins : Wipe, Tuck, Blot, Fold in Whatever Color You Want!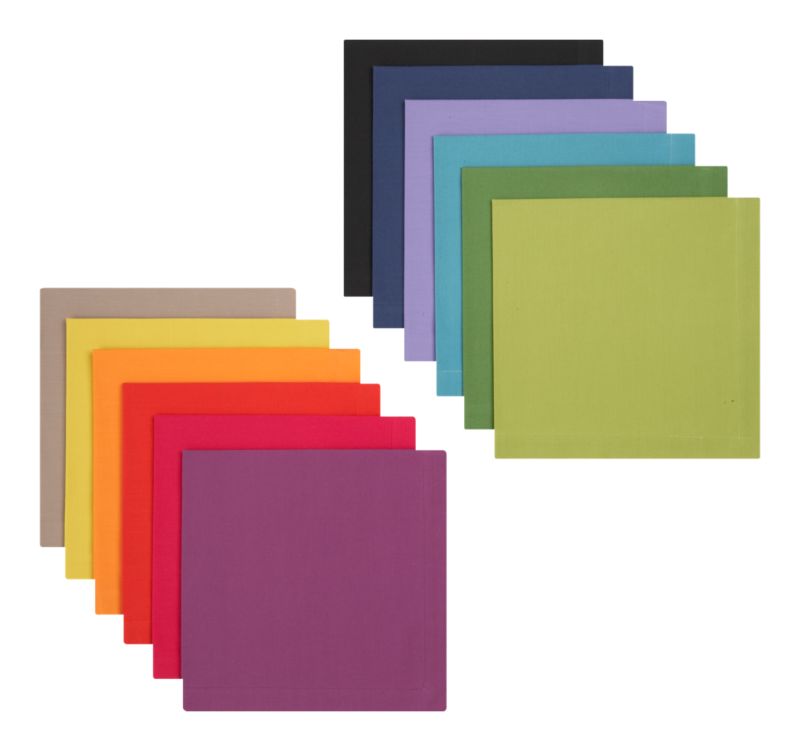 These are a very simple addition to my list in two ways; the basic type of product it is, and the quick decision to get these on my list.  These napkins are I'm sure just your plain old fabric napkins, but you get a set of 12 of them.  Now for the $39.95 you will pay for them at Crate and Barrel, you could probably buy 12 individual napkins for that price.  I just like the colors they've chosen, and the fact that you only get 1 of each, so you can mix and match however you choose, OR just let your guests choose the color they'd like.  I always thought it'd be fun to have a sort of "Clue" themed dinner party where Miss Scarlet would, in this case, get the red napkin, Miss Peacock, the blue, etc.  Or, if you're just having an off day and you want a bit of sunshine yellow to perk you up than go for it, by all means, because hey, you have 12 different colors to pick from!
8) Present Time Photo Frame Clock : How Much Fun Would it Be to Put This Together??? 
While this may not match anything you own, or have ever owned, or have known anybody to have ever owned, but it is nonetheless the most fun and refreshing clock I've ever found!  I found it on Amazon while looking for some picture frames that weren't black or brown (surprisingly difficult), and came across this clock.  I have a loft in my condo which I use as an office and art studio, so with functions like that my color scheme up there is anything but controlled.  It's the perfect place to put something like this.  Now, if you aren't as crazy and into color as me, there is a silver, aluminum version this, which would fit more households better than the multicolor.  There is also a cheaper, smaller, silver one.  Check out the product link for more options.  I think this would be the most fun picture frame set up ever because how the heck would you decide who goes at 1:00 vs 2:00 or who gets the black frame as opposed to the yellow frame?  I have this on my wish list on Kaboodle, so I'm hoping I'll get it soon as a gift maybe…?  Too bad Christmas and my b-day have passed already….
9) Circo Chalk Board Piggy Bank : Save Up in Style
So I know i was dissing chalk boards earlier in this post,but I had completely forgotten about this!  While I may not like the chalkboard look up on the wall, apparently, when it is on a pig, I'm drawn to it.  This is a great way to add some fun to your room, without it looking childish or too girlie.  This piggy bank would look just as cute in a guys room as a cute gift from his girlfriend, as it would in a girls room who is trying to save up for that super expensive bikini, come summer  time!  For under $13, this is a great, and fun way to save up for all of that stuff we can't do when it's this cold out!
10) Ikea PS Stam Mirror : Odd Way to Get Dressed in the Morning 
This mirror from Ikea is only $129, compared to about $300 for others its' size at higher end stores.  It's about 6'6″ tall, by about 20″ wide.  Looking good is an easy way to feel better during this dull season, so here's a new, fun way to do it.  You can mount it on a wall, or the back of a door, whatever is convenient.  The only non-convenient thing about this mirror is that it can't be bought online, you'll have to go to your local Ikea store to pick it up.